CLICK here for Mitch Laurance's Hooked on Hickories interview with JTOG's Andy Reistetter
On the verge of an historic trip that will carry him from the Glen Echo Country Club in St. Louis, site of the last venue for Olympic golf in 1904, to the city of Rio de Janeiro in Brazil and the future golf site of the 2016 Olympics, golf writer and ambassador Andy Reistetter joins Mitch Laurance from Houston, Texas for a special edition of Hooked on Hickories. Worthy of a special edition, no one carries the spirit of the game on so many levels as does Andy, and as he prepares to cross the border towards his first international stop in Mexico City, site of the 1968 Olympics, we're all privileged to begin this 3 month journey with him.
Mitch begins the conversation with Andy's connection to hickory golf and why it's such an important part of Andy's passion for the game, and then follows with an obvious question: "Where did the idea of traveling from your home in Florida all the way through Mexico, Central America, and South America by car to Rio come from, and what made you actually take action on it?" Listen as Andy, who has worked as a freelance writer and broadcast assistant for the 4 major American golf tours, details the germination of his idea, and how he committed to a 3 month adventure that few would ever undertake. He details the beginning of the trip, which he started on Oct. 12th, why it's important both for him on a personal level and on a broader one, and then discusses his first stop in Atlanta, at the burial site of Bobby Jones, and at the Atlanta Country Club course, and why it was important to him to carry the iconic Jones' spirit with him. Hear how he met 1972 Olympian Dennis Berkholtz, how that meeting gave him a different understanding of what it means to be an Olympian, and learn about the special gift that Andy gave to 1955 US Open Champion Jack Fleck in Arkansas. The Journey has already begun in remarkable fashion.
Andy then describes the route he'll take over the next 3 months, and why his beloved car, 'The Torch', plays a highly important role. Mitch then asks about another of the most important aspects of Andy's journey, the charitable side of the trip, and Andy explains why it's fitting that the First Tee will benefit from his extraordinary undertaking (HEAL, a charity devoted to those with autism, will also benefit). The discussion reveals on many levels why Andy is the perfect ambassador for our game, and why we're all lucky to have him sharing so much of what he is about to do with us, throughout his trip. Mitch explains that Andy's website, JourneyToOlympicGolf.com, is a fantastic one, that will allow us all to follow Andy on the journey, as well as to donate to the First Tee in honor of the adventure. Andy's goal of reaching $100,000 for the First Tee has already gotten off to a great start (For those making a donation, go to TheFirstTee.org and please specify that you're doing so in honor of the Journey to Olympic Golf).
Mitch thanks Andy for all he is doing, for his gracious and heartfelt contribution to spreading the best ideals of the game on such a grand scale, and looks forward to keeping in touch with Andy as he ends his trip at the PGA Show in Orlando in January of 2014. He then previews next week's edition of Hooked on Hickories on Wed. Oct. 30th at 11am EST, featuring Golf Channel's Travel guru Matt Ginella, another world golf traveler. Mitch also mentions the upcoming shows from the Mid Pines Hickory Open in Pinehurst on Nov. 8th, and gives listeners information on a fantastic charity event taking place there on Veteran's Day, Nov. 11th, the Veterans Putting Challenge, created by Dr. Edwin Cottrell, a decorated veteran himself. All money raised will go to helping the more than 1000 disabled American Veterans living in Moore County, NC who are living beneath the poverty level. It is a great cause. Mitch gives a mailing address to which you can contribute, which is  DAV #83-VPC, PO Box 1881, Carthage, NC 28327, urges everyone to give to those who have given so much for us, and closes the show, which is produced and broadcast by the Zeus Radio Network for TheGolfDirector.com.
CLICK here for Mitch Laurance's other stories on Hooked on Hickories
Mitch Laurance Joins TheGolfDirector.com Broadcast Team as Host of Golf History Radio Show Called "Hooked on Hickories"
Renowned actor, director, producer, and sportscaster, Mitch Laurance joins emerging digital media force, TheGolfDirector.com. Laurance brings his extensive video and television experience and talents to the group and will host a golf talk radio show called Hooked on Hickories.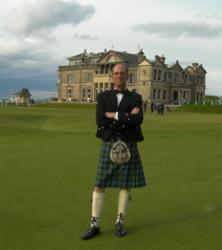 Myrtle Beach, SC (PRWEB) June 27, 2013
Mitch Laurance, whose experience includes an extensive career directing, producing, and acting on television will be joining the all-digital platform of TheGolfDirector.com. Laurance will bring his extensive video and television experience to the team as well as hosting a golf history radio show called "Hooked on Hickories".
"The history of the game of golf is like an addiction to me," says Laurance. "I'm excited to be joining The Golf Director team and look forward to hosting the Hooked on Hickories golf talk radio show. I'll also be involved in bringing video and insight on an extraordinary collection of golf courses designed to maximize the choices of those planning golf vacations."
TheGolfDirector.com launched in January 2013 and includes a golfing social network at its core with 24 / 7 golf talk radio and web TV channels. In less than six months the network has reached over 130 countries delivering hundreds of thousands of listening and viewer sessions. The all-digital platform currently focused on the Myrtle Beach, SC golf market has plans to expand into other golf destinations.
"Launching our network in Myrtle Beach was a natural fit," says network creator, Jeff Gilder. "We live in Myrtle Beach and there are nearly 100 courses here in the area referred to as The Grand Strand. We are thrilled to be adding Mitch Laurance to our team. His experience and talent is unmatched."
For more information about TheGolfDirector.com network visit their website at http://thegolfdirector.com